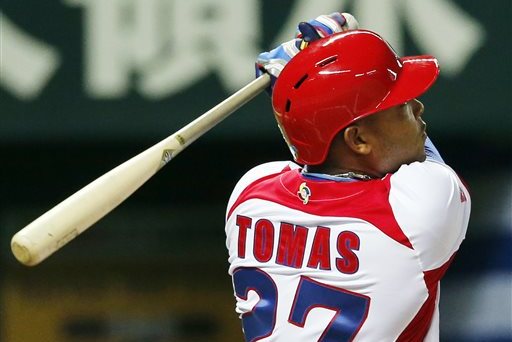 The New York Yankees may have missed out on Rusney Castillo but that may be okay as Yasmani Tomas will presumably be a free agent after the 2014 season. Tomas is closer, projection wise, to the Yoenis Cespedes', Yasiel Puig's, and Jose Dariel Abreu's of the world than Castillo could ever dream about being. Could Tomas, and not Castillo, be the replacement for Ichiro Suzuki next season?
Tomas has already defected from his native Cuba and is trying to establish residency so he can become a free agent this winter. Tomas is 23 years old, to Castillo's 27 years old, and has played in parts of five seasons in the Cuban Serie Nacional making him exempt from the spending cap on International players, not that this will matter to the Yankees much after already breaking the bank in that department.
Tomas has spent time at both corner outfield spots, center field, first base, and third base in his career and put on a show in the 2013 World Baseball Classic. Tomas was 6-16 with a .412 batting average with two home runs, a double, a walk, and four strikeouts in the tournament.
Tomas rates as a 70 in the power department on a scale of 20-80 and can hit some towering home runs with his 6'1" and 230 lb frame. Tomas is right handed and has a very short and compact swing that helps him in the power department. Tomas is probably a corner outfielder in the Major Leagues thanks to his below average speed in the outfield and on the base paths. Tomas' arm rates as a 55 on that same 20-80 scale and the slugger projects to 30 home run power in the major leagues with below average defense.
Cespedes received four years and $36 million, Alex Guerrero received four years and $28 million, Erisbel Arruebarruena received five years and $25 million, Rusney Castillo received seven years and $72 million, Jose Abreu received a six year deal worth $68 million, and Yasiel Puig received a seven year deal worth $42 million, and Jorge Soler received a nine year deal worth $90 million. What will Yasmani Tomas receive? Looking at those numbers you're guess is as good as mine.