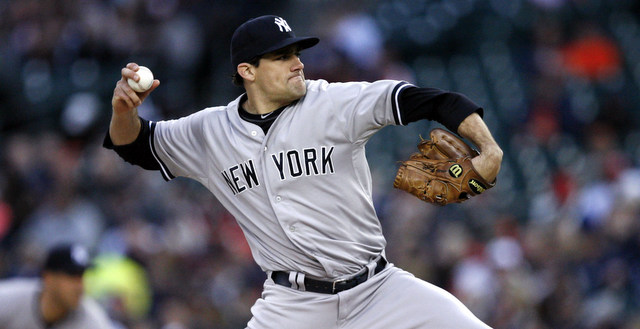 Tonight is the finale of the Subway Series as far as inside Yankee Stadium is concerned when the New York Yankees play host to the New York Mets. We have been entertained with some great pitching matchups this series and tonight's face off will be no different. Tonight on ESPN's Sunday Night Baseball the Yankees will send Nathan Eovaldi to the mound to face off with the Mets LHP Jon Niese. The game will be played at 8:05 pm ET and will be seen on the ESPN Sunday Night Baseball broadcast.
Eovaldi comes into the start tonight fresh off his best start of the season for the Yankees against the Detroit Tigers. Eovaldi pitched into the 8th inning and allowed one run against a strong Detroit lineup. Eovaldi picked up his first victory of his Yankees tenure and heads into tonight's start with a 1-3 record and a 4.62 ERA in seven career starts against the Mets.
Niese improved his 2015 season record to 2-0 with a victory over the Atlanta Braves last time out. Niese threw 6.2 innings of one-run ball against the Braves with rookie catcher Kevin Plawecki behind the dish. The Yankees offense will look to end Niese's shot at a perfect season in 2015 tonight in the Bronx.
We won't see these Mets again until September when these two teams travel to Citi Field so enjoy the last remnants of the Subway Series while you can. The Yankees stay home tomorrow to begin hosting the team they swept a couple weeks back in the Tampa Bay Rays while nobody reading this probably cares what the Mets will be doing. So with that said, Go Yankees!
#BeatTheMets